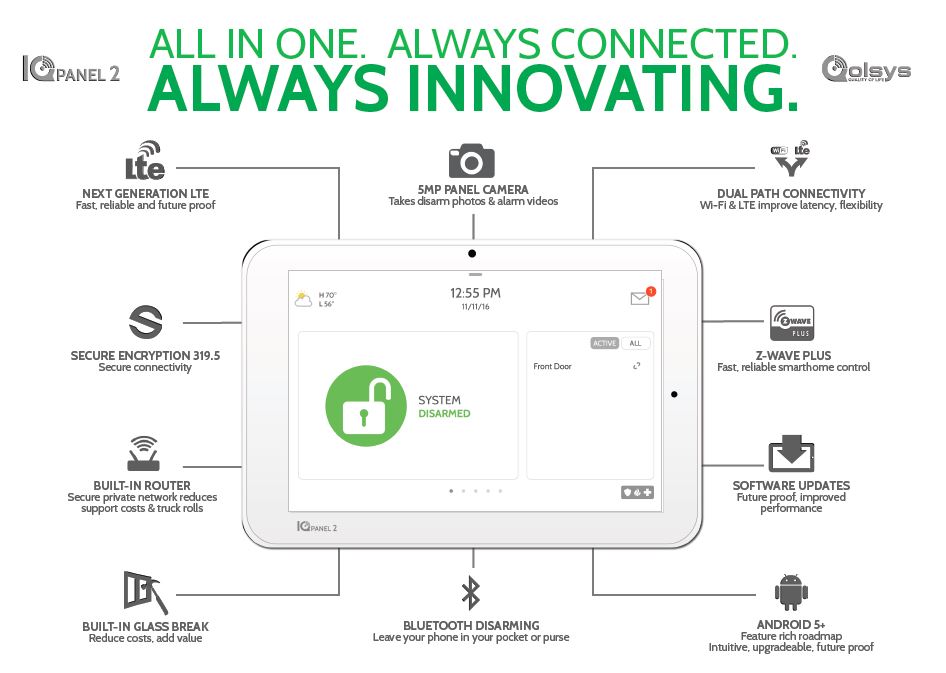 IQ PANEL 2   
The award winning IQ Panel is a 7" HD touchscreen with built-in 5MP camera and multiple wireless radios including LTE, Wi-Fi ac, Z-Wave Plus, BLE and the new S-Line secure 319.5 radio. Leveraging the power of Android 5 and the QualComm Snapdragon SOC (system on a chip) the IQ Panel includes a built-in router, custom text-to-speech, and a clean, elegant, modern user interface. the IQ Panel keeps you connected to an entire ecosystem of smart devices giving you control over your entire home.
FEATURES
– 7" capacitive touchscreen with intuitive swipe/scroll/touch-based user interface
– 5MP panel camera capable of capturing disarm photos and alarm videos and sending them to your phone
– Qualcomm Snapdragon chipset includes quad core processor, LTE, Wi-Fi ac, built-in router, Android 5 OS
– Cloud token authentication ensures all processes are truly secure
– S-Line secure 319.5 radio connects to authenticated sensors putting security back into security
– Bluetooth touchless disarming allows you to pair up to five smartphones for secure, authenticated disarming without taking your phone out of your purse
– Built-in panel Glass Break uses microphones and complex algorithms to detect the sound of breaking glass
– Interactive services powered by Alarm.com give you mobile apps on any platform and enable powerful features like geo-fences, scenes, and notifications
– Dual path connectivity uses Wi-Fi ac and LTE simultaneously for speed, flexibility and redundancy
– Panel turns into a customizable photo frame when not in use
– Over the air software updates ensure your panel always has the latest and best features available
– Control your entire home with the built-in Z-Wave Plus radio that securely connects to lights, locks, thermostats, garage openers and more.
– Built-in microphones and speakers allows you to talk directly to your monitoring station agent from the panel (where available)
– MicroSD card slot allows you to customize your photo frame or save photos taken by the panel camera and put them on your computer
– On screen video tutorials make self-service easy and fast with videos on the most common issues
– Message Center allows you to get messages about your system or from your service provider